Andplusalso, I'm a stalker today. Not a creepy one though. I promise.
But first on to the hair.
As you know, yesterday I chopped it all off. The experience was nothing short of completely terrifying once I was in that salon chair, but this is probably top 3 on the list of most rewarding things I've ever done in my life. The fact that my hair is going to help some poor child be happy and whole again makes me want to cry and hug everyone. And I'm not a very huggy person, so that's saying A LOT.
Lookie!
And that's not even all of it. The stylist left some of the pieces longer in the front (you know…so I didn't end up with a Beatles-style bowl cut) and since it wasn't long enough to send to Locks of Love, the salon is sending it to Matter of Trust; an organization that makes hair mats that are used to clean up oil and such out of the ocean. How cool is that?
Anyway, on to the reveal.
Some of you and I are friends on Facebook, so this new look will be old news to you by now.
BEFORE: (I'm on the right. Duh.)
And AFTER:
And here's another one of me giving a giant douchey thumbs up…
…because that's how much I LOVES IT. Let me count the ways why this is so awesome, besides the obvious helping-others part of it.
My hair took me literally five minutes to do as opposed to the usual 30.
When I woke up this morning, it didn't look like a family of squirrels had built a nest on my head.
For once in my life, I can actually accomplish the unheard of task of making it look as good as the stylist did. I know, right!?
I'm going to save a crap-ton of money on shampoo and conditioner.
My husband isn't going to divorce me over it. In fact, he told me that it's growing on him already.
I don't look like pre-weave Kate Gosselin. It was a real fear.
It makes my face look more heart-shaped than oblong. I really shouldn't have been wearing my hair that long with my face shape anyway.
NO SPLIT ENDS!!
I've rekindled my 1980′s love affair with mousse.
Basically, I think my short hair and I are going to have a very happy existence together.
Now back to that whole stalker thing. Today is BLOG STALK FRIDAY over at the home of my most favorite hookerface, CB! I love this girl to pieces!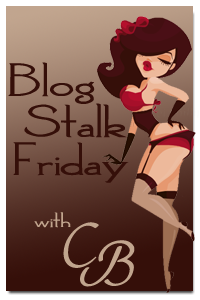 Last night she emailed me and told me that I better look at her blog ASAP, so of course it was the first thing I did when I logged on to the computer this morning. Little did I know of the epic radness that I was about to encounter!
I am very proud to be CB's Slut of the Week! And that is DEFINITELY my pole dancing alter-ego Sparkles VonTramp in that picture. Plus she gave me the most amazing shout-out in her vlog. Like to the point where I almost got teary, but then had to remind myself that badasses don't cry. I would have seriously lost my face if she had stopped blogging, and I'm so glad she's sticking around.
Both because she's supremely awesome and also I'd probably have a tough time in social situations without a face.
It's been an awesome week for me and I hope it has been wonderful for all of you too!